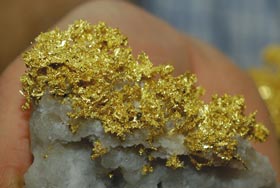 The great find of gold
In 2008 on Monte Rosa Michael Wachtler, with the twins Mario and Lino Pallaoro, Federico Morelli, Maurizio Petti and Georg Kandutsch make the biggest of gold finding in the Alps in the present day. On that occasion they found about 30 kg of native gold. They started off from a forgotten map by a Swiss scientist, referring to a find of 40 kg of pure gold in 1908 and another of 28 kg, in the same place.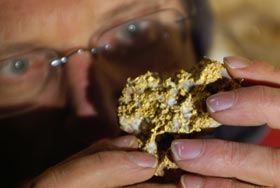 Gold from the Venezuelan Jungle
Deep in the Amazon-jungle, in a "Lost World", would be found one the best gold-crystals in the world. By the way to the big collections every specimen will be more and more embedded in often nearly unbelievable tales and stories. But even that makes the secret of the gold and diamonds of the Venezuelan Gran Sabana.
Read more about Gold hunting in the Amazzonian Jungle.
Also avaible as photobook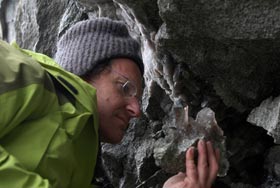 The big crystal cleft from Piz Vallatscha in the Swiss Alps
In 2007 Michael Wachtler together with the Tomaschett-brothers discover on the glaciers of the Piz Vallatscha in the Swiss Surselva an enormous crystal cavern. It was one of the biggest in the Alps.
More